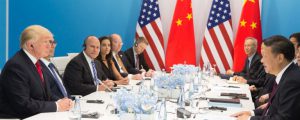 At the end of the G-20 Foreign Ministers' Meeting, the US President Donald Trump and Chinese President Xi Jinping held talks on a trade war between the two countries.
The leaders of United States and China negotiated about two and a half hours, after which the US President Donald Trump went to the airport for a scheduled flight to Washington.
None of the parties made any statements on the outcome of the negotiations, however, there are rumors that a full agreement was reached on all issues.