The oil giant BP invests in battery technology to develop electric car batteries that can recharge in minutes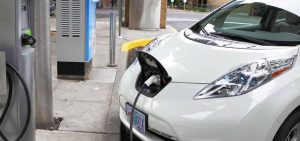 There is no doubt that the number of electric vehicles being sold over the World is growing rapidly fast, but one of the main struggles with electric vehicles is how long it takes to recharge the car batteries, even using the latest cutting edge fast-charging systems.
BP has invested $20 million in Israel's start-up StoreDot. StoreDot's is a Tel Aviv-based firm which is working on a solution to reduce greenhouse gas emissions in its operations. Its innovative battery technology powered by organic compounds and nano materials can charge electric vehicles in five minutes and it will pave the way for wider adoption of electric vehicles.

StoreDot co-founder and CEO Dr Doron Myerdorf said, "Working closely together with a global energy leader is a significant milestone in StoreDot's direction of strengthening the EV ultra-fast charging eco-system."
According to Ravi Manghani, senior director of energy storage at GTM Research, StoreDot is commercializing the use of polymers instead of metal oxides in lithium-ion batteries.
"This technology has great promise. I don't really know how quickly it can be commercialized, though," said Manghani. "There's always a gap in battery technology R&D between lab or pilot results and actual manufacturing at scale. We project polymer-based chemistries have the potential to become mainstream sometime in the 2030 time frame.""Ultra-fast charging is at the heart of BP's electrification strategy,"
Tufan Erginbilgic, chief executive of BP's downstream business, said in a statement. "StoreDot's technology shows real potential for car batteries that can charge in the same time it takes to fill a gas tank."
According to StoreDot officials, the new car batteries contain an eco-friendly electrolyte which is stable at high temperatures and allows an electric car to travel for more than 300 miles on a single charge.
StoreDot's new technology shows real potential for electric car batteries that can charge in the same time it takes to fill a gas tank.